This guide will help you unlock your dream kitchen vision by providing inspiration and practical advice on the top remodeling kitchen ideas as of 2023. Create a space that melds form with function, all while keeping in mind details catered to suit your lifestyle and preferences – it's what sets apart an exceptional kitchen makeover.
Short Summary
Discover the top kitchen remodeling ideas for 2023, such as embracing open-concept kitchens and utilizing flexible layout options.

Budget-friendly makeovers are possible through painting cabinets and walls, updating hardware & fixtures, DIY countertop solutions, integrating living spaces into the kitchen & more.

Enhance your design with statement lighting fixtures, choose durable materials like quartz countertops, and explore color trends in neutral or monochromatic schemes. Utilize smart storage solutions to optimize space.
Embracing Open-Concept Kitchens
Open-concept kitchens are all the rage nowadays because of their crisp and sleek designs that open up living spaces. Removing boundaries between rooms creates a more bright and airy kitchen atmosphere, while customizable plans like L-shaped or U-shapes afford easy access to kitchen items for effortless efficiency. To create an aesthetically pleasing space in your home with this style, there are certain steps you can take to ensure it is successful.
Space planning should be conducted first by assessing how much room will actually fit into your current layout. Make sure any furniture pieces do not overcrowd the area as natural light needs enough space to move around freely in order for its full potential benefits (illumination)to be reached effectively without causing chaos or making people feel uncomfortable when occupying it either during cooking activities or other daily tasks related directly and indirectly.
Removing Walls for Openness
Removing cabinet doors on upper cabinets and partitions on upper cupboards is an essential aspect of creating a spacious, open kitchen concept. This not only gives the room aesthetical beauty but also encourages better movement within it, as well as producing a more connected atmosphere.
An example of this transformation would be Allison Allen's successful redesign which included the removal of soffits, wall-mounted cabinets plus linoleum tiles containing asbestos contamination in favor of something less obstructive yet still inviting.
Integrating Living Spaces
Combining living areas with the kitchen can give a more open and spacious feel, make movement simpler, and enable multipurpose use of the room. This integration improves circulation through an area as well as furnishing additional seating arrangements for entertainment purposes so that the task lighting and hosting visitors are made easier.
By uniting the kitchen ceiling and the culinary space with the dining room and/or living rooms you have one functional zone perfect for everyone to appreciate.
Flexible Layout Options
Maximizing floor space utilization is important for creating an organized and effective kitchen, especially in open-concept homes. U-shaped or L-shaped designs are beneficial as they can fit a variety of sizes and styles. Adding seating benches and lower cabinets to these layouts provides extra storage solutions. Maximize the usable area within your space. Choosing the layout most suited to you will ensure better functionality when designing your dream home and kitchen setup.
Budget-Friendly Kitchen Makeovers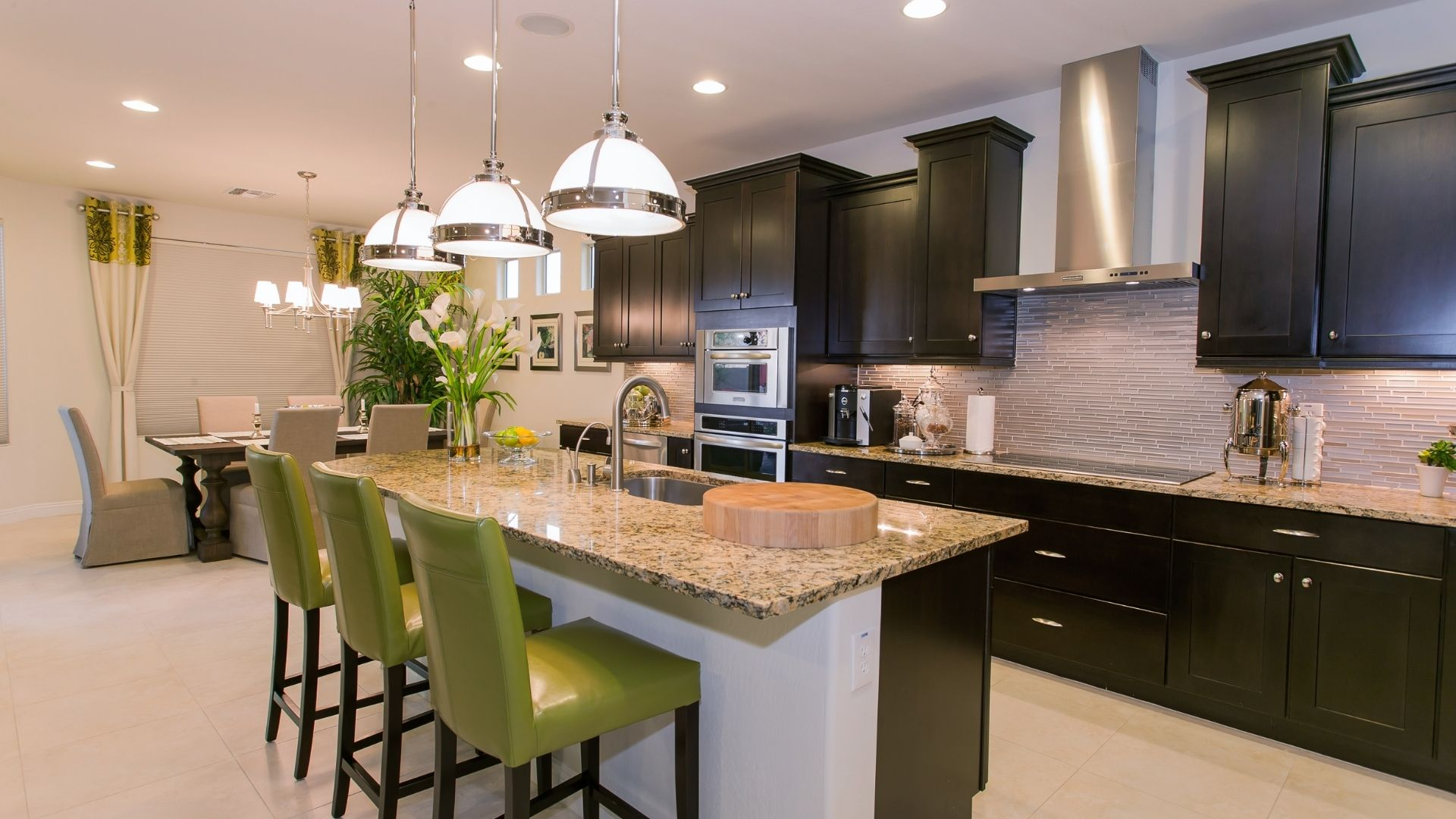 Modernizing a kitchen does not have to be expensive. There are some cost-saving ways that you can use in order to achieve the desired look without spending too much money. Repainting cabinets and walls, replacing hardware and light fixtures, and doing DIY countertop solutions all constitute budget-friendly approaches for giving your kitchen an upgrade.
Let us take a closer look at these ideas so we can see how it is possible to spruce up your cooking area while sticking with tight finances.
Painting Cabinets and Walls
One great way to instantly update your kitchen is by giving the cabinets and walls a fresh, matte coat of paint. This relatively low-cost option can totally alter the entire space with modern vibes for long-lasting effects.
To ensure top results, it's important to properly prep before painting – clean and sand surfaces, prime them ahead of time then finish off with two coats of high-quality color!
Updating Hardware and Fixtures
Revamp the look of your kitchen in an inexpensive way by replacing some fixtures and cabinet hardware. Cabinet handles, drawer pulls and faucets can all be exchanged for modern models with attractive finishes without taking much effort as pre-drilled holes already exist. Doing this is a simple yet effective means to give your kitchen a contemporary touchup.
Using these few changes will save you time but still create a significant impact on how it looks, allowing you to really bring out its best features!
DIY Countertop Solutions
If you're looking for an inexpensive way to update your kitchen, then a DIY countertop could be the answer. Materials such as laminate, concrete, wood, tile, and paint all offer distinct advantages, from longevity to easy maintenance and customized designs. Find which material is right for you so that you can proudly show off your newly created work of art!
Rounding up this project won't take much effort either. Simply pick out whichever option suits both budget constraints and personal taste best – no matter what decision is made, it will ultimately bring forth great pleasure in seeing your own unique creation come alive!
The Rise of Kitchen Islands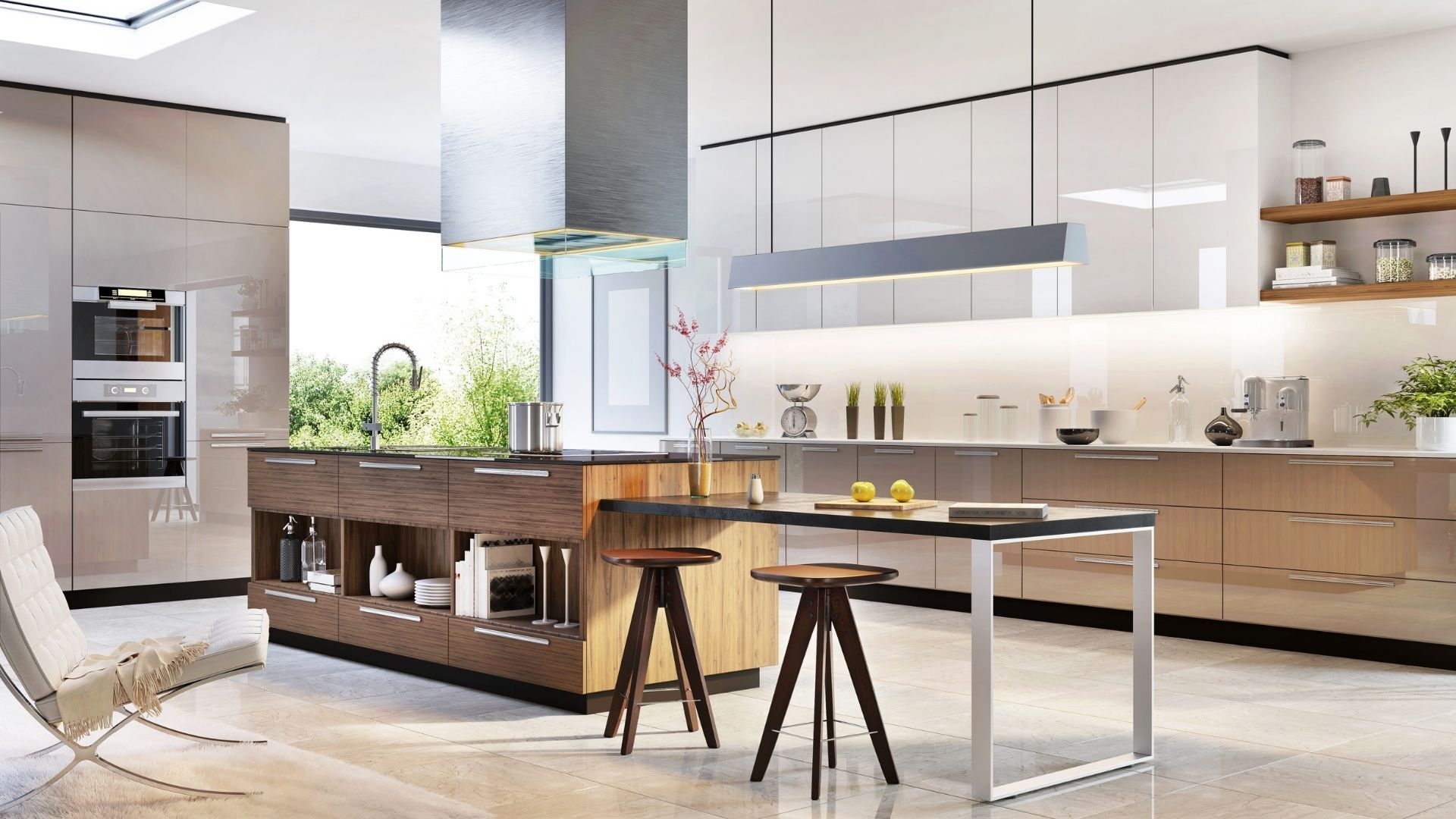 Kitchen islands have become a center of attention in many modern kitchens, acting as an extension to counters with more storage and seating options. They are designed for optimum functionality, providing multiple uses plus comfortable places to sit and relax. Kitchen island fixtures can truly upgrade the aesthetic appearance and practicality of any kitchen space.
Let's take a closer look at all the features offered by these helpful pieces: extra counter space, plenty of storage possibilities, and different forms of sitting arrangements — each offering improved accessorizing prospects so you get even more out of your cookery area!
Multi-Functional Islands
A kitchen island is a great way to maximize the space in your kitchen. Not only do these features create additional storage options like wine racks and garbage/recycling units, but they also provide an ideal area for food preparation with a sink and even seating areas for when you'd like to entertain or have friends over. Incorporating multi-functional elements into this design not only boosts its utility but makes it look stylish too!
Island Seating Options
When planning kitchen islands, make sure there are 12 inches of space to move comfortably. This should be the side of the neutral kitchen that faces away from food prep. Doing so will create an inviting environment for people at mealtime and when they are visiting your home socializing.
Choosing seating options thoughtfully according to the height of the island can turn it into a multifunctional spot, perfect both, as a family dining area and a great place to share meals or for hosting friends with all its convenience in one place!
Customization and Design Ideas
Your dream kitchen is made complete with a customized and personalized island. The possibilities are boundless when it comes to designing the ideal space for you, from quartz countertops and all stainless steel appliances and materials all the way to specific colors used in creative storage options. To make your kitchen even more eye-catching, consider adding touches like integrated wine refrigerators or waterfall edges on the island that really let it stand out in style. Statement lighting can also give an extra dimension of unique beauty too!
Lighting Innovations in Kitchen Design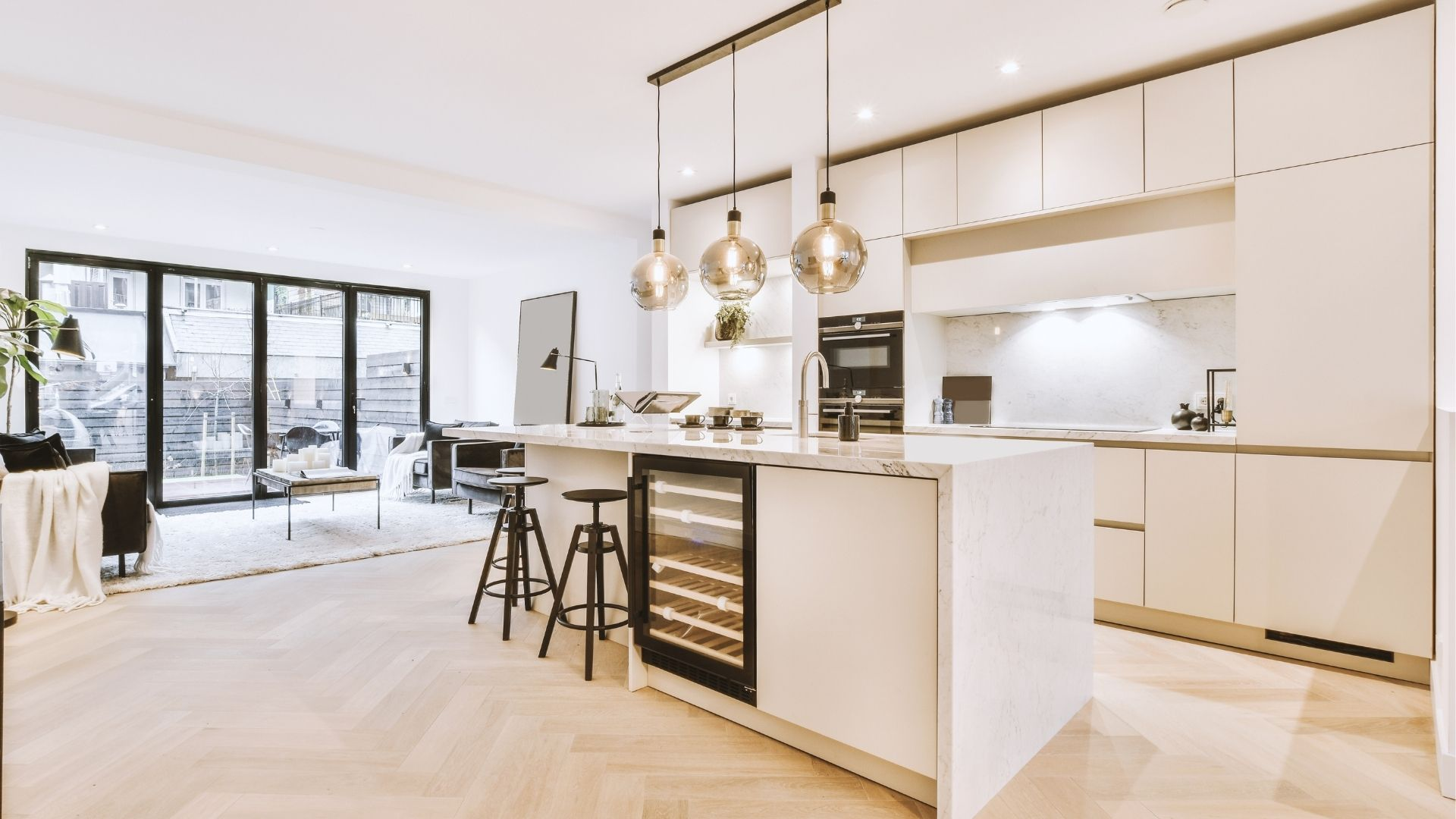 Creating a dream space in a kitchen with the right ambiance requires excellent lighting. Illuminating your space through layered lighting, attractive fixtures, and energy-saving bulbs can contribute to making it more welcoming, useful, and aesthetically pleasing.
Let's explore how these modern light sources have the potential to give your kitchen area an upgraded look and feel. Through their practicality as well as elegance they are sure to make for an improved environment!
Layered Lighting Approach
By using a layered lighting technique, it is possible to create an inviting and comfortable ambiance in the kitchen while allowing for versatility in how that area can be lit. This approach includes ambient, task-oriented, and accent illumination, which brings balance into the space.
A great advantage of this setup is that you are able to establish different atmospheres according to your desires or needs at any given time – making your cooking hub an even more functional place when entertaining guests or doing day-to-day activities.
Statement Lighting Fixtures
Statement lighting fixtures are essential to include in a kitchen design, as they offer not only functionality but also serve as an eye-catching focal point that can draw attention and enhance the overall aesthetic. These may come in various shapes such as large windows, glass globes, rise-and-fall pendants, or beaded boards – so take into account their size, materials used, and style before making your selection. They will definitely add visual interest and drama for you to enjoy while entertaining guests.
Energy-Efficient Lighting Options
Incorporating energy-saving lighting into your kitchen can not only create a more eco-friendly space but also offer the benefit of reducing electricity costs. Options such as LED bulbs, CFL bulbs, and natural light have all achieved ENERGY STAR accreditation which certifies their high level of efficiency compared to traditional incandescent lamps. By making this smart choice for your kitchen design, you'll ensure it is adequately illuminated while saving power consumption.
Material Choices for a Modern Kitchen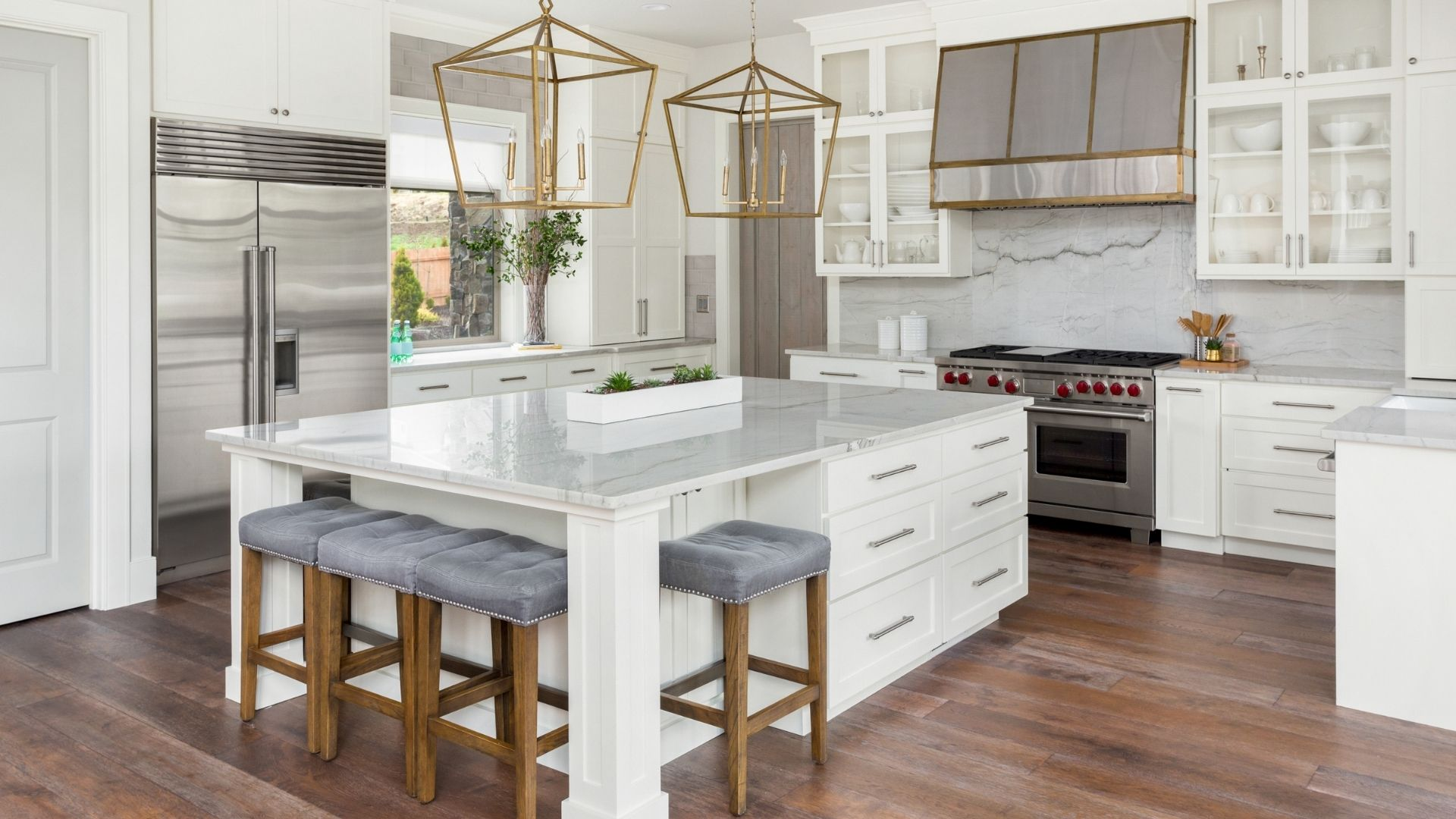 For a modern kitchen to look and perform at its best, selecting the right materials is paramount. One great choice for this purpose is quartz countertops – they are long-lasting, low maintenance, and can easily be customized to suit any design ideas you may have in mind. Unique backsplash options as well as reliable tile floor-ing solutions lend themselves perfectly to creating a space that looks beautiful while staying efficient.
It's essential we take time to evaluate these material choices carefully so your newly remodeled kitchen will turn out just how you envision it! Quartz countertops with their many benefits offer ample potential when incorporated into contemporary kitchens, making them an ideal option worth considering further.
Quartz Countertops
Quartz countertops are a great option for any modern kitchen due to their robustness, low maintenance needs, and heat resistance. With different colors and patterns available that can be adapted perfectly to the design of each kitchen, these surfaces offer an elegant look but also excellent performance in time. As an example, we could take the House of Blues where quartz Calacatta Gold Silestone island is showcased in a serene blue hue. By incorporating this type of countertop into your own cooking and dining space you will enjoy all its benefits with no worries about lasting over years!
Unique Backsplash Materials
A focal point in your space can be created by choosing a unique backsplash for your kitchen. Handcrafted tiles, wooden panels, and weathered copper all provide beautiful options that are tailored to fit any design style. An example of this is the Afro-Bohemian kitchen, which uses an eye-catching wooden backsplash to add warmth and texture to the room's look. By utilizing distinctive materials during renovations, you will have a customized area showcasing your own personal aesthetic sense.
Durable Flooring Options
When you are renovating your kitchen, selecting a hardwearing flooring option is essential. Floor types such as tile, wood, vinyl, and even natural wood and stone provide durability with added benefits including waterproofness and stain resistance. As you pick the ideal floor for your space, take into consideration upkeep needs, and cost factors, and look to find something that matches both functions well and the aesthetics of the area. Invest in an enduring surface that will last over time when furnishing or upgrading kitchens so that it provides years of enjoyment for its users.
Color Trends in Kitchen Design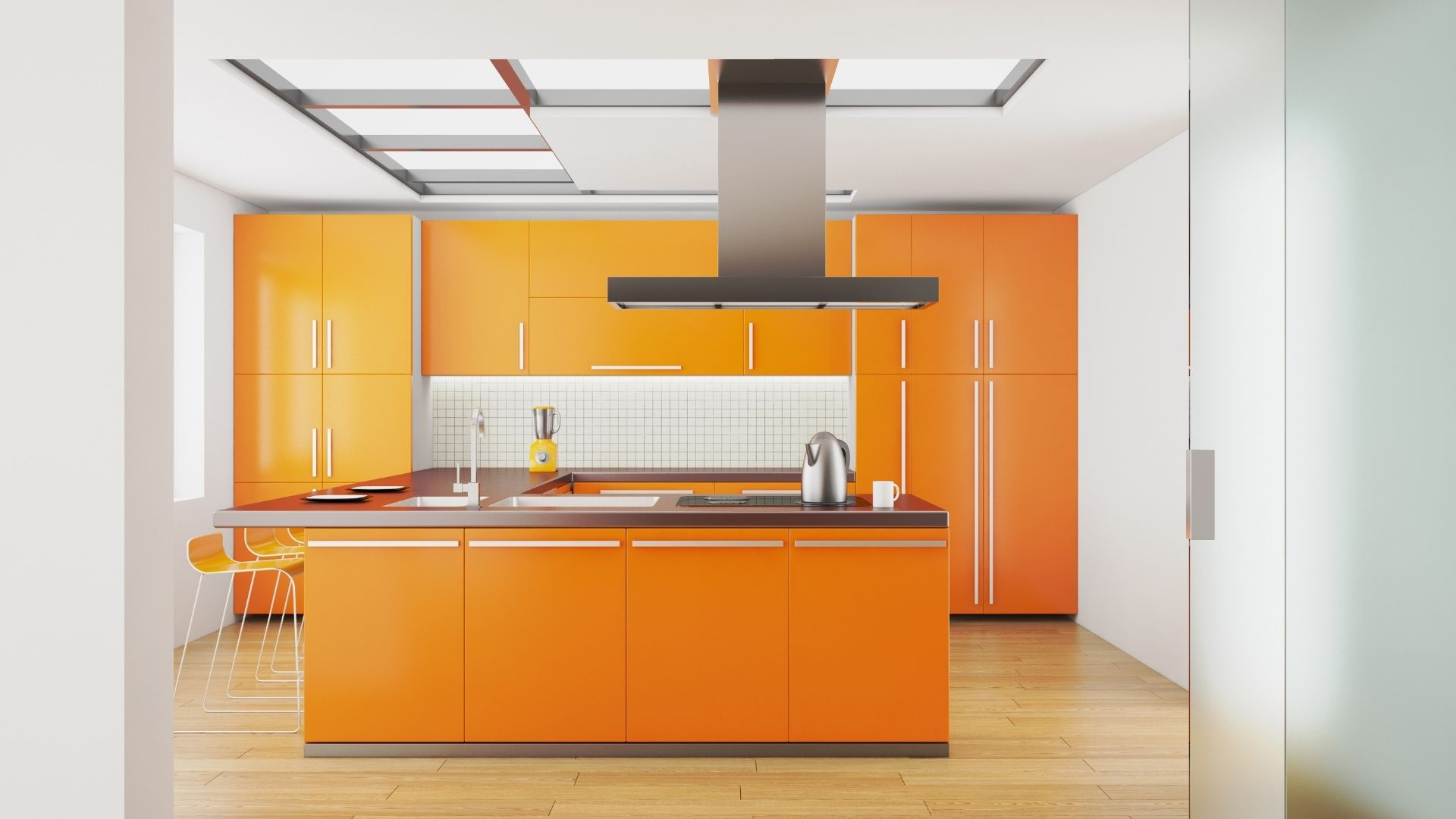 As kitchen design trends have shifted over the years, individuals are increasingly opting for bright colors, calming neutrals, and single-hue, bold color palettes when creating their kitchen space. These various color palettes and choices help to create a visually pleasing area that matches your style preferences perfectly.
Let's take a deeper look into these modern hues so we can get an idea of how they impact the overall atmosphere in our kitchens.
Bold and Vibrant Colors
Giving your kitchen a colorful makeover can be the perfect way to inject some life and personality into the room. An excellent example of this is black cabinets combined with light blue and white subway tile, along with brass accents, and deep dark green features for added impact.
By combining fun colors in kitchen cabinetry, tiles, or other accents, you create an interesting yet unique aesthetic that will instantly draw people's attention.
Soothing Neutrals
For your kitchen area, neutrals such cool colors such as soft beige or black granite and even white cabinets can deliver both calming and inviting vibes. These shades are long-lasting yet flexible for nearly any kind of style. For instance, Benjamin Moore's Chinchilla has this tranquil gray shade that makes an ideal atmosphere in the cooking space.
By the natural stone and picking neutral colors to design within the kitchen, you will craft a warm wood soothing environment that is great for entertaining guests and relaxation alike!
Monochromatic Schemes
Using a single color in your kitchen design can be both fashionable and classic, providing you with a modern touch. An example of this style is dark wood cabinets paired with matching wood paneling, marble countertops adorned by black subway tile backsplashes, or white gloss cabinetry complemented by glossy white tiles.
A monochromatic scheme brings together all the features seamlessly giving any space an air of sophistication while remaining practical and stylish. Such designs are easy to maintain yet they create an impressive effect in blue and white space that won't go unnoticed among guests alike!
Smart Storage Solutions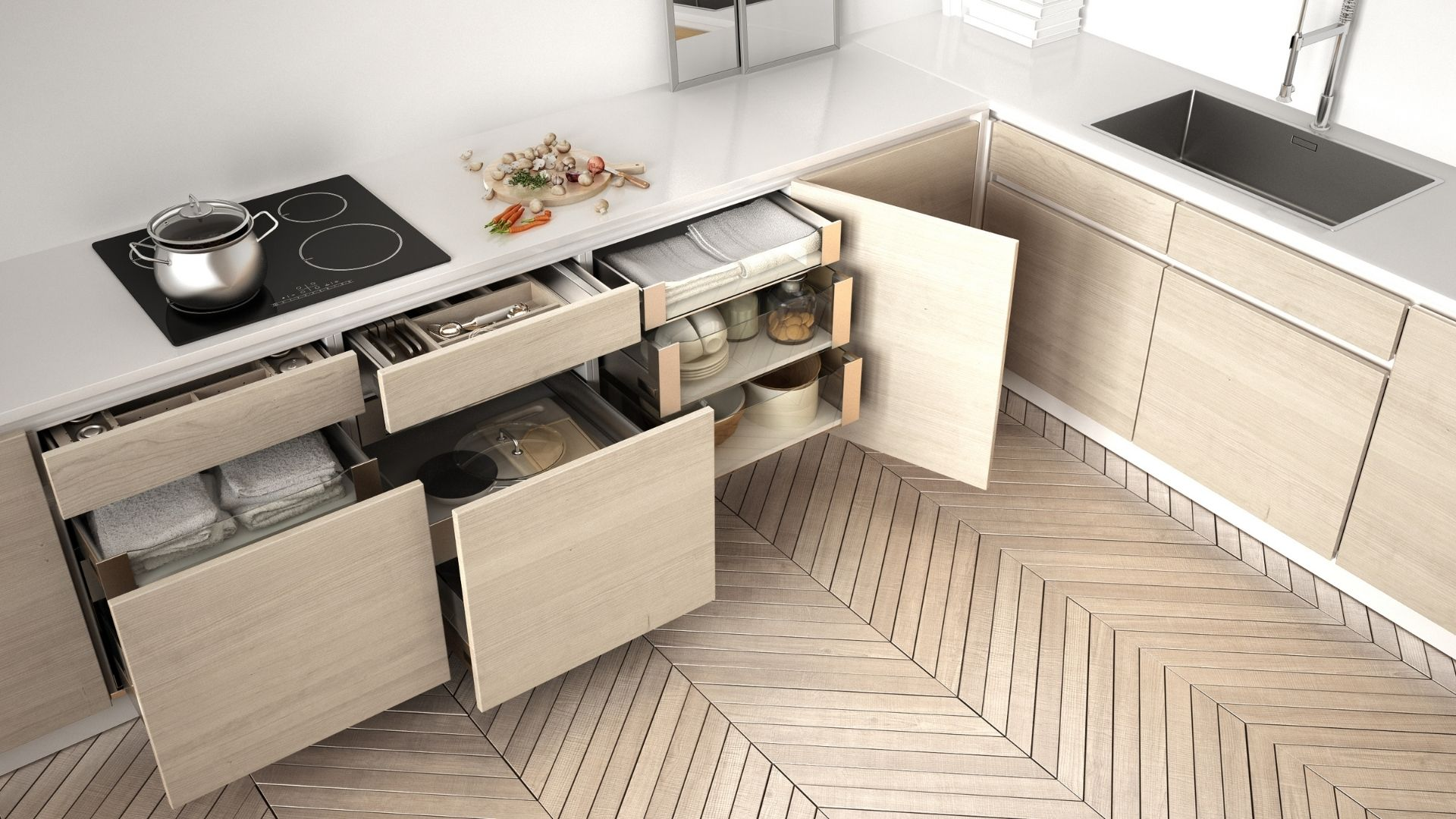 Efficient storage is paramount to optimizing the usefulness and layout of your kitchen. Custom-built cabinetry, drawer organizers, as well as open shelving can all be extremely beneficial in helping you get more out of the space available.
Using these clever methods for storing items will result in an orderly cooking area that has sufficient room for any essential supplies needed without cluttering up unnecessary areas.
Custom Cabinetry
Customs are an excellent choice for a storage system that fits the individual needs and wants of each home. The dimensions, form, and materials used when selecting your can give you a unique outcome tailored to enhance your kitchen décor. Additional features like pull-out drawers or even built-in appliances. Maximize the use of available space in any given kitchen area.
Clever Drawer Organizers
If you're looking to maximize the utilization of space in your own kitchen cabinets and drawers, clever drawer organizers can be a great solution. They come in different shapes and sizes so that they will fit perfectly with what you need them for – whether it's storing utensils or spices, knives, or other items.
When deciding on which one is right for you, take into account both the size of your drawers as well as the types of things that have to be put away. This way everything will stay organized and easy to access.
Open Shelving Options
Open shelving can offer an appealing and practical storage alternative for your kitchen. It creates a light, open atmosphere while making everyday items easily accessible. By utilizing this type of shelf system in the design process, you have the opportunity to customize your kitchen into a space that reflects both style and convenience.
This form of shelves will not only open shelves and provide extra storage but also produce aesthetic detail within any room it is placed in, adding character as well as functionality to its surroundings!
Eco-Friendly Kitchen Designs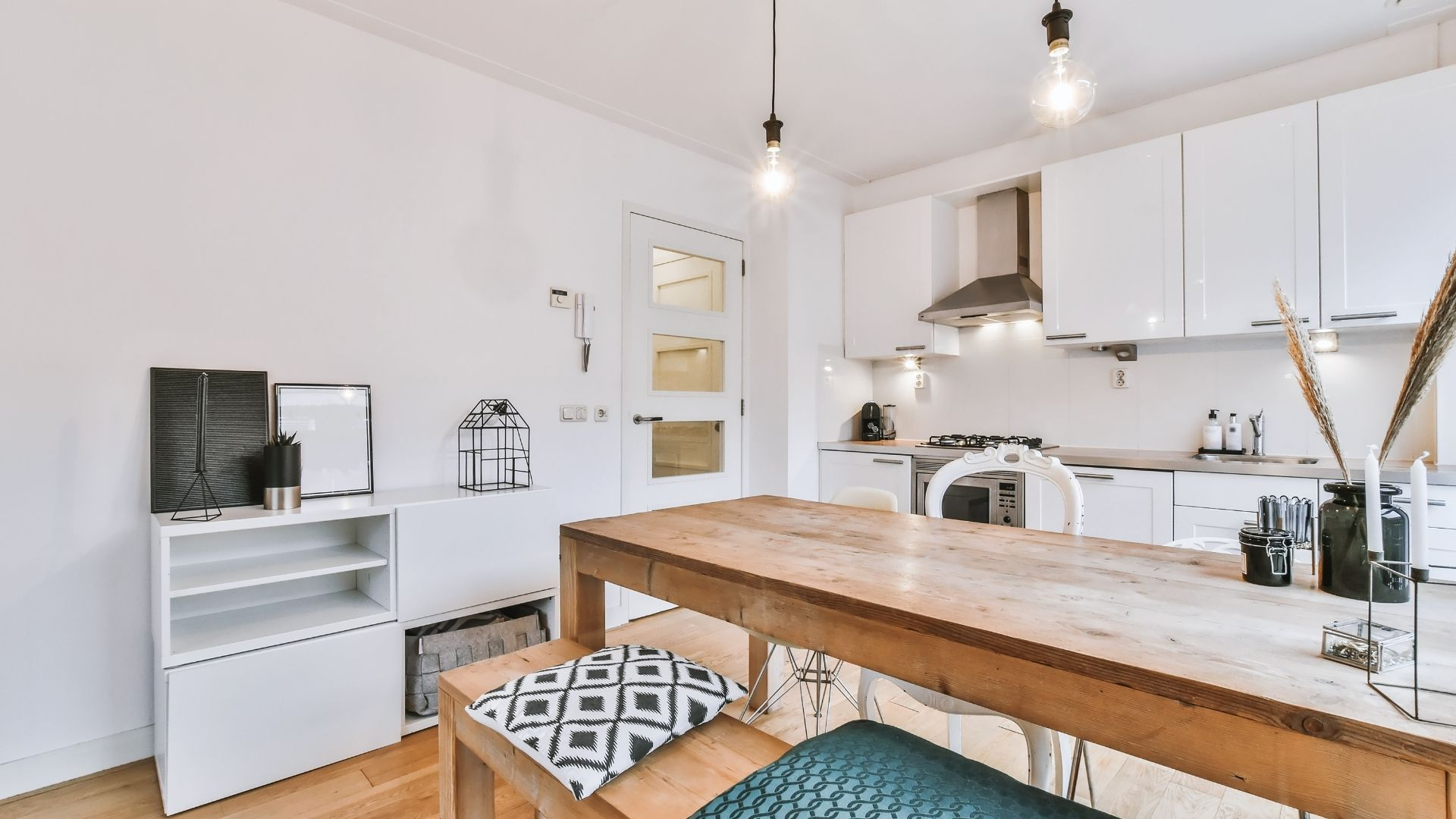 When redesigning your kitchen, you can create an eco-friendly living space that not only helps the environment but also provides a healthier lifestyle. By implementing energy-efficient appliances and sustainable materials in your kitchen, it's possible to reduce emissions while saving on energy costs too. Let's explore these great and how they could be integrated into your next remodel project for maximum benefit! Choosing items such as ENERGY STAR-certified products or recycled goods are excellent ways of making sure you have an environmentally conscious home with good use of available resources throughout the entire space.
Energy-Efficient Appliances
Modern technology can help reduce environmental impact and save on energy costs if you choose to invest in ENERGY STAR-certified appliances for your kitchen. These products are designed to be up to 20% more efficient than standard models, leading to reduced energy usage with noticeable savings on monthly electricity bills.
Investing in these types of appliances is a great way for households to look forward to minimizing their ecological footprint while enjoying the latest technologies at an affordable price point!
Sustainable Materials
Sustainable materials, like recovered wood, bamboo, other natural wood, stone, and recycled glass, can be used to create an eco-friendly kitchen space. Designed for longevity as well as aesthetics, these resources help ensure that your remodel is both attractive and responsible from an environmental standpoint.
Using sustainable components in the interior design and process allows you to craft a unique look while also investing in a more sustainable future for yourself and others alike.
Summary
As you take the plunge into remodeling your kitchen, remember that strategic planning and creativity are key components to success. Consider incorporating elements such as open concept designs, cost-effective makeovers, inventive lighting fixtures, tough materials for durability purposes, fashionable bold colors for a stylish touch, smart storage ideas, and eco-friendly appliances in your kitchen design in order to create an efficient cooking space reflective of your personal style preferences.
Frequently Asked Questions
What is a realistic budget for a kitchen remodel?
In order to stay within your budget for a kitchen remodel, the estimated cost should be around $12,500 – $33,000 with an average expenditure of approximately $22,000. To guarantee that you are satisfied and have enough funds left over for other possible projects, it is best to do some research beforehand. Looking into materials required as well as labor costs can help in creating this realistic estimate needed for such an endeavor.
What is the right order to remodel a kitchen?
Ready to give your kitchen a makeover? Start by designing the layout and upgrading any wiring and plumbing, then move on to insulating and drywalling. Give the walls and ceiling a fresh coat of paint, lay down your flooring, and finish it up with cabinetry, countertops, sink(s), and faucets.
Now you can relax and enjoy your newly remodeled kitchen!
What are the three most expensive items in a kitchen remodel?
It is essential to take into consideration the cost of labor when it comes to kitchen remodels, as this can be one of the most significant expenses. Cabinets, countertops, and appliances are usually three expensive items that should also factor into budgeting plans. Do your research wisely before investing money so you won't end up overspending on these costly components needed for a successful renovation project.
What is the most expensive thing in a kitchen remodel?
The costliest aspect of a kitchen remodel is usually the cabinets, be it for refacing or replacing them. Having new cupboards can entail major expenses, but they may bring benefits in terms of value and visual appeal to your house as well as give your cooking area an updated and fashionable look.